I started this blog on February 5, 2009 – and then "life" happened. I just read what I wrote over 2 years ago and I could have written exactly the same thing this morning.  It's all still true – except that I'm not sitting in the RV in Palm Springs, but rather back home on the Oregon coast – watching the deer and the offshore fog. It should burn off later – but I'm enjoying the cooler days after the heat wave I left in the desert a month ago.  (It was 113 and raining the day I left Palm Springs!)
I'm not sure how I'm going to end up using this blog … but the title "Meanderings" still seems to fit.  It still feels good to have a place to process thoughts that occur to me along the way, even though I don't often take the time to sit down and write. Since I don't fully understand how this blog site works,  I've decided that I'm going to take my time and just try to learn one thing at a time.
The reason I started writing today is because I began thinking about the 10 years that have passed since I left classroom teaching.  Looking back I can see that even though I was given a retirement party, I never really retired.  I just changed my focus.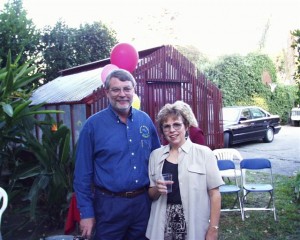 This is a picture of my principal, Bill Robertson and I at my retirement party in June 1998.  Even though I moved to Brookings, Oregon that summer, I continued working with Bill and the teachers on an application for Holly Avenue's National Blue Ribbon award.  That's when I first realized the potential of the internet.   I loved the idea of staying connected to all my friends via email – so it was great fun for me to translate the questions on the application, send them to the person in the district who I felt might have the best answer –  then cut, paste . . . and smooth out syntax and style.    When the 50 page application was complete, not only did we win, but our application was one of 7 posted on the DOE website as an exemplar.   That felt very good – and was one of the main reasons that have I kept on writing.
I'm not sure that I'll ever write a book … but I do know I'll continue writing.  This format feels good to me right now … so I hope that I'll get back to it before another 2 years go by!