I started this blog in February 2009 for two reasons:
First, after almost a decade of retirement,  Richard (aka Dick) and I finally arranged our lives so that we could spend more time traveling.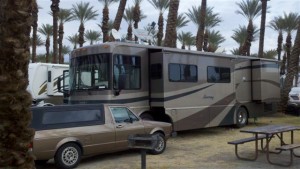 However, since I still didn't feel ready to retire at that time, Richard installed a high-speed satellite dish on the top of the RV so that I could stay involved with what was happening in education – and add my two-cents' worth as the spirit moved.  When I discovered Edublogs.org, I thought it would be a good place to chronicle our travels – and any other random ideas I felt like I wanted to record.
So, my first reason for starting this blog was to be able to document, in a linear fashion, both our physical meanderings as we travel from place to place . . . and also my own mental meanderings which are anything but linear!
My second reason was that as a teacher and as a learner, I know that the only way to really learn something is to simply jump in with both feet and, as the Nike folks would say, "JUST DO IT!"     I have felt for many years that technology was a train that was moving so fast I could never catch up.    Now with 20/20 hindsight I know I was right.    I will never "catch up," so I will just have to close my eyes and jump on the train – taking whatever bumps and bruises may be the result!
There really is, however, a third reason for starting this blog.   I have been in education either as a student, a teacher, or a consultant for my entire life and have always wanted to somehow make a difference.    When I left classroom teaching in 1998 and began to connect with other educators whose ideas aligned with mine, I truly believed that I could make a difference within the system.  
As I return again to this blog – 6 years after starting it – I have come to accept that the system doesn't want to change, and that if I am to make a difference,  it will be by connecting with folks on-line who hold the same vision for the future of education as I do.        Thanks for finding my blog . . . happy trails, and I hope to hear from you!